Product Summary
The TPS61020DRCR is a boost converter intended for systems that is typically operated from a single- or dual-cell nickel-cadmium (NiCd), nickel-metal hydride (NiMH), or alkaline battery. The converter output voltage of the TPS61020DRCR can be adjusted from 1.5 V to a maximum of 3.3 V, by an external resistor divider or, is fixed internally on the chip. The TPS61020DRCR provides an output current of 200 mA with a supply voltage of only 0.9 V. The converter starts up into a full load with a supply voltage of only 0.9 V and stays in operation with supply voltages down to 0.8 V. The converter is based on a fixed frequency, current mode, pulse-width-modulation (PWM) controller that goes automatically into power save mode at light load. It uses a built-in synchronous rectifier, so, no external Schottky diode is required and the system efficiency is improved. The current of the TPS61020DRCR through the switch is limited to a maximum value of 1300 mA. The converter can be disabled to minimize battery drain. During shutdown, the load is completely isolated from the battery.
Parametrics
TPS61020DRCR absolute maximum ratings: (1)Voltage range on: LBO, COMP 3.6 V; (2)Peak current into SW 1300 mA; (3)Continuous total power dissipation See Dissipation Rating Table; (4)Operating free-air temperature range, TA -40℃ to 85℃; (5)Maximum junction temperature, TJ 150℃; (6)Storage temperature range, Tstg -65℃ to 150℃; (7)Lead temperature 1,6 mm (1/16 inch) from case for 10s 260℃.

Features
TPS61020DRCR features: (1)Integrated Synchronous Rectifier for Highest Power Conversion Efficiency (>95%); (2)Start-Up Into Full Load With Supply Voltages Low as 0.9 V, Operating Down to 0.8 V; (3)200-mA Output Current From 0.9-V Supply; (4)Powersave-Mode for Improved Efficiency at Low Output Currents; (5)Autodischarge Allows to Discharge Output Capacitor During Shutdown; (6)Device Quiescent Current Less Than 50 μA; (7)Ease-of-Use Through Isolation of Load From; (8)Battery During Shutdown of Converter; (9)Integrated Antiringing Switch Across Inductor; (10)Integrated Low Battery Comparator; (11)Micro-Small 10-Pin MSOP Package; (12)Applications Include All Single- or Dual-Cell Battery Operated Products Like Internet Audio Players, Pager, Portable Medical Diagnostic Equipment, Remote Control, Wireless Headsets; (13)EVM Available (TPS6101xEVM-157).

Diagrams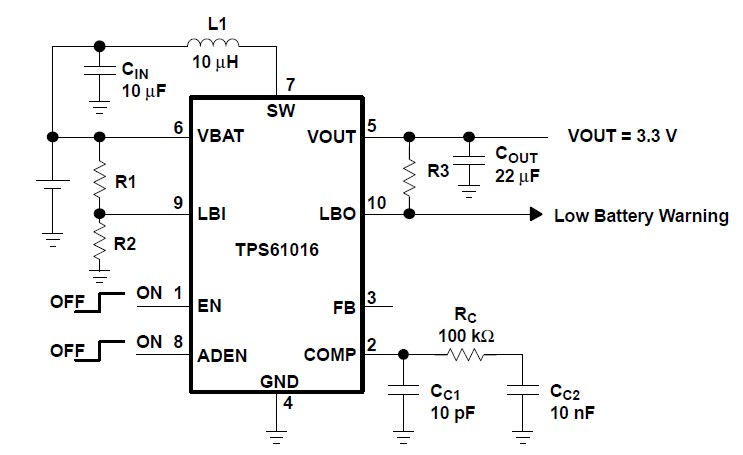 Image
Part No
Mfg
Description
Pricing
(USD)
Quantity

TPS61020DRCR

Texas Instruments

DC/DC Switching Regulators Adj 1.5A Switch Hi-Eff Boost Cnvrtr

Data Sheet



| | |
| --- | --- |
| 0-1: | $1.76 |
| 1-25: | $1.35 |
| 25-100: | $1.22 |
| 100-250: | $1.10 |


TPS61020DRCRG4

Texas Instruments

DC/DC Switching Regulators Adj 1.5A Switch Hi-Eff Boost Cnvrtr

Data Sheet



| | |
| --- | --- |
| 0-2150: | $0.80 |
| 2150-3000: | $0.76 |
| 3000-6000: | $0.73 |